Uttarakhand, also known as Devbhoomi, offers immense opportunities to adventurous sports lovers. One can try their hand at different sports and activities during the Adventure Sports in Uttarakhand tour. The free-flowing rivers, the lofty peaks, the wild forests, and the long stretches of plains in -between, provide ample opportunities for Adventure Sports lovers in Uttarakhand.
Summary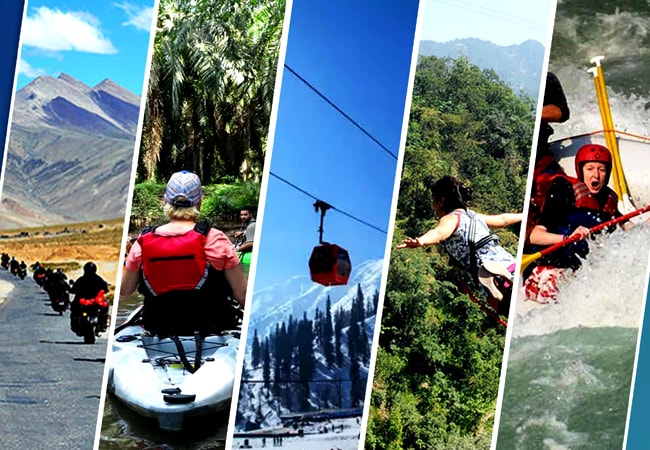 Adventure Sports in Uttarakhand can be enjoyed in various forms. Skiing is one such popular activity, one can enjoy here. The Garhwal and the Kumaon rages have quite a few tracks to offer. The most famous tracks for skiing in Uttarakhand are found in Dayara Bugyal, Munsayari, Auri, and Mundali.
Another form of Adventure sport in Uttarakhand, which is fast gaining ground, is River Rafting. Also known as White Water Rafting, this popular form of sport is carried out in the wild waters of rivers like Bhagirathi, Mandakini, and Alakananda.
Jungle Safari is another popular form of Adventure sport in Uttarakhand. The vast covers of jungles and forests, across the state, offer ample opportunities for jungle expeditions. The 3 largest sanctuaries of the state namely Rajaji National Park, Nandadevi Wildlife Sanctuary, and Jim Corbett National Park are explored frequently. Adventure Sports in Uttarakhand also can be enjoyed in the form of trekking. The snow-covered peaks of the Kumaon and Garhwal ranges in Uttarakhand, which are as high as 6,500 meters, offer innumerable trekking tracks. Apart from this, you can even try out some of your best golf shots at the Upat golf course around Ranikhet. It is a 9-hole golf course set amidst the fruit orchards.
Add-on Facilities
The equipment required for various types of Adventure Sports in Uttarakhand is available in the market at quite reasonable prices. During the Wildlife safaris in the jungles, one can also enjoy elephant back rides.
Must Read: Best Tourist Places to Visit in Uttarakhand
Camping
Camping is an excellent way of enjoying the wonders of life and also the best to get intimate with the beauty of nature. Camping enables you to spend time in the lap of nature even as you blissfully forget the routine affairs of the daily hectic life.
Uttarakhand located in the Himalayan Region is one such place, where camping comes naturally. Whether it is normal camping or wildlife camping, Indian topography provides everything to adventure fans.
Tons Valley Garhwal is an excellent place for camping, which is located at an altitude of 3600 feet above sea level. This is an ideal camping site for everyone as it provides a romantic and tantalizing escape for tourists and adventure freaks. This place is densely forested with alpine oak, Chestnut, Pine, Deodar, Jamun, and rhododendron and is also rich in a wide variety of flora and fauna. This valley lies in the Launsar Bawar region of Garwhal and is an area of unique history and culture.
Jharipani in Mussoorie is another such location that provides an excellent camping site. It is situated on the top of the hill and is easily accessible through road from Mussoorie. Jharipani is entirely for nature lovers as it has a Doon Valley which is a wonderful place to watch during the twinkling lights of night. Jharipani is a magnificent camping site for small groups. The adventure sports comprises Rafting, Trekking, Paragliding, and Horse Safari.
Among the Indian forest and wildlife regions, Chitrauli situated in Nainital is the perfect place to enjoy wildlife camping. Chitrauli has a rich variety of flora and fauna and it offers ample opportunities to Trekkers, Bird Watchers, Naturalists, and Painters to try out their favorite adventure activity. The wildlife camps in Chitrauli take everyone on top of a little off-beaten natural trek amidst Pine, Pak, and Deodar trees. This Chitrauli camp offers a pleasant escape from the daily routine and hectic lifestyle to small villages, terraced fields, and shimmering water streams.
Golfing
Uttarakhand tour discloses the state's richness of flora and fauna and also some of the most famous hill stations and pilgrimage destinations in the country. Nanda Devi is the highest peak in the state, which is situated at an altitude of about 7817 meters above sea level.
This region comprises several meadows, passes, trekking routes, glaciers, and rivers such as Yamuna and Ganga. A major part of this state is covered with alpine forests and rainforests, which are places of abode for several highly endangered wildlife species.
Adventure freaks can also find solace in several adventure sports such as camping, golfing, trekking, hiking, paragliding, skiing, mountaineering, and river rafting. The mountains and rivers in Uttarakhand offer some of the toughest challenges to adventure tourists. But beyond the realm of adventure sports, this place also offers something much more placid and delicate. Golf, one of the most popular sports for both men and women across the globe finds a strong subsistence in the state of Uttarakhand.
For those who enjoy playing Golf, hitting their shorts and perfecting their game will be the order of the day in Uttarakhand. Golf Courses in this region are carved out of the green meadows. Enclosing small elevations on land and magnificent lakes in the neighborhood, the topographic deviation is compelling, to say the least. These Golf Courses in Uttarakhand boast unparalleled beauty. Surrounded by snowcapped hills, mountains and fruit orchards these Golf Courses are highly rated and are held in esteem, by professional players.
Raj Bhawan Golf Course in Nainital and Upat Golf Course in Ranikhet are among the major golf sites in Uttarakhand. The 9- hole Upat Golf Course that is 6 km away from Ranikhet is considered among the best-managed Golf Courses in the country. The 18 – Hole Raj Bhawan Golf Course is spread on extensive land of 50 acres and is surrounded by lush green soft grass and fruit orchards. As seasons vary one can have a ball enjoying the fragile beauty of these Golf Courses in Uttarakhand.
Jungle Safari
Jungle Safari in Uttarakhand is one activity that brings in the thrill of adventure like no other can. This activity is unique in it and is the best way of getting close to nature's wilder siblings. The jungle safari, usually offered in the National Parks, is a nice way to explore the wildlife. In fact, these safaris are the best way to look around and marvel at the flora and fauna of Uttarakhand.
Summary
Jungle safaris in Uttarakhand can be done casually upon elephant backs. Though it seems to be a laid-back activity it gives one a chance to be observant and sensitive to the world around us. However, to cover more area and get an opportunity to catch a glimpse of a tiger in a jungle one should opt for a jeep safari.
In Corbett National Park in Uttarakhand to spot tigers and elephants, one has to cover large distances, which is conveniently done with jeeps. The same is applicable for Rajaji National Park which stretches for about 820 kilometers.
During their jungle safari in Uttarakhand, people can spot some of the rare wild animals that are on the verge of extinction. Chital or spotted deer is often visible during a wildlife safari tour of Rajaji National Park. Monkeys or 'Langoors' and Sambhar, the largest deer in India, can also be spotted in Rajaji National Park.
The jungle safari in Uttarakhand gives one an option to drive past the hilly terrains, undulating tracks of the forest, green valleys, sprawling grasslands, river beds, and many other vegetations and forms of topography.
Jeep safaris in Uttarakhand are also a good option to explore the different cities in the state. One can keep moving from one district to the other while observing the rich and varied culture along with the flora and fauna.
Add-on Facilities
Sometimes horses are provided for Jungle Safari in Uttarakhand. The National Parks are open for a restricted period of time all over the year so it is better to get prior information.
Mountaineering
Uttarakhand is one of the most scenic states of India. A part of the state is situated in the Himalayas and is a great tourist destination all year-round. Uttarakhand is a great place for adventure sports and offers numerous adventurous activities. Trekking has become a popular adventure activity among tourists.
The famous trekking destinations in Uttarakhand are situated in the Garhwal and Kumaon regions. The Kumaon region is also called 'Miniature Kashmir' as it offers some of the best places for trekking. The best trekking route in Uttarakhand is Pithoragarh to Sinla Pass through Chota Kailash and Parwati Lake. The trekking expedition through this region passes through some deep gorges, steep mountains, and swift-flowing narrow river streams.
The other trekking routes in Uttarakhand are Gori Valley, which passes through Pithoragarh, Ralam to Munsyari glacier through Milam and Martoli, Kuti, Dhauli, and Kali regions. A trek to Kailash Mansarover passes through the same route. An attractive feature of passing through this region is that you can get a glimpse of the local culture and tradition. A famous center for pilgrims in the Kumanon region is the Bageshwar which offers a great trekking expedition that leads to Kafni Glacier through Pindari and Sunderdhunga.
A trek through the Garhwal region also offers some of the best trekking options. Apart from the natural beauty of the place with steep mountains and snow-capped peaks, a trek through this region provides an opportunity to explore a variety of flora and fauna. There are a number of endangered species in this region. A trek to this region gives you an opportunity to enjoy the view of animals in their natural habitat.
Some other trekking options in the region are Gangotri Tapovan Trek, Gangotri Kedarnath Trek, and Nandavan.
Paragliding
Paragliding is a simple form of flying with the help of an inflatable wing that is launched on foot, easily transportable to launch and land. It is made of polyester fabric or nylon. The pilot of the paraglide is attached with the help of Kevlar lines. The paraglide can fly in the air for a number of hours at great heights of more than 10,000 ft. it is possible to cross long distances with the help of a paraglide.
Pithoragarh is one of the most striking regions of Uttarakhand and is a famous paraglide destination of the state. The city is situated between Tibet and Nepal in the Soar Valley at the foothills of the Himalayas. There are four hills- Dhwaj, Chandak, Kundar, and Thal Kedar that surround this place. The city is the center of adventure activity in the country. During the olden days, there were six passes for going to Tibet. A trekking expedition to Namik Glacier and Milam is started in this place. Numerous adventure sports like gliding; skiing, river rafting, fishing, and gliding are organized from this place for the entertainment of guests.
A paraglide through the thick forests of Pithoragarh will give you a chance to explore some of the rare species of wild animals in their natural habitat. You can spot peafowl, musk deer, and snow leopards. Have an aerial view of the meadows that surround the town that look like a green carpet. View the ruins of the temples built by Chand Rulers. Visit the Kapileshwar temple, a temple dedicated to Shiva. Get a spectacular aerial view of the Himalayan Mountain by paragliding. The snow peaks, blue sky filled with clouds, green mountains, and swift rivers are a treat to watch from the great heights of the sky.
Skiing
Experience the thrill of skiing on the snow that Uttarakhand has to offer. Uttarakhand, situated on the great Himalayan range provides steep slopes for adventurous guests. In Uttarakhand, you are provided with the best lodging and services in the region. Depending on snowfall and weather conditions, skiing in Uttarakhand begins in December and goes on till the latter half of March.
When filled with snow the slopes become ideal skiing destinations. Kumaon and Garhwal hills provide an excellent opportunity for ski sports. The adventure sport of skiing is relatively new in India and it is only in the recent past that ski tourism has been encouraged on a large scale. The major skiing sites in India are Auli, Dayara Bugyal, and Mundali.
Auli situated on the Garhwal hills is the most popular skiing resort in the state. The government of the state and the center has provided enough support for making Auli a world-class skiing facility in the world.
The main advantages of Auli are its natural slopes and its world-class facilities. The snow-filled slopes are covered with oak and coniferous forests that help in reducing the speed of the wind. You can have a great sight of the Himalayan peaks of Kamey, Dunagiri, and Nanda Devi from Auli.
Another wonderful skiing resort is in Uttarakhand is Dayara Bugyal. A double bonus awaits adventurous guests in Dayara Bugyal. For a skiing expedition in this place, you need to trek a distance of 8 km before you have an opportunity for skiing. Being part of this adventure sport in this place is an experience of a lifetime.
Mundali, at a distance of 125kms from Dehradun, is covered with snow all-round the year. Set amidst high mountain peaks filled with snow, Mundali offers one of the best facilities for skiing in Uttarakhand.
Add-on facilities
On your skiing tour to Uttarakhand, you are provided with all safety equipment required for a safe skiing experience. Sufficient training is provided before you can go out for a skiing expedition.
Trekking
The lofty Himalayan ranges and the vast forests in Uttarakhand offer ample opportunities for trekking in Uttarakhand. The sport is rapidly gaining ground and is being promoted by the state government as well. Walking on the mountain tracks following the trails in the jungles is something that trekking freaks love to do in the mountainous Uttarakhand.
Summary
Trekking in Uttarakhand can be carried out in the mountains and forests of the state. There are quite a few trekking tracks that are very famous. Situated at an altitude of 3500 meters is the valley of Har ki Doon.
The trek starts from Netwar and ends at Har ki Doon en route passing through Osla. It is a 50 kilometers long stretch through the forests of willows, chinars, chestnuts and walnuts. The Chandrashila hilltop is a perfect place to climb and get warm in winters. Covered in the snow the place also provides facilities for skiing. One gets to see exotic flora and fauna when trekking in Uttarakhand at Chandrashila.
The trek that starts from Dehradun and ends at Kempty Falls passes through Mussoorie, Bhadraj, George Everest, and Jwala Devi. It is also a good option for trekking in Uttarakhand. The trek from Rishikesh to Gopeshwar passes through Kalpeshwar, Pipalkoti, Bansi Narayan, Rudranath, Godiyala, and Gopeshwar. It takes around 10 days to complete this trek.
Trekking in Uttarakhand is through very rugged terrains in the Gangotri Kedarnath trek. The path is the one that is used for reaching Kedarnath from Gangotri. The Kedarnath temple can be reached by the path that starts from Gaurkund and ends at Vasukital covering Kedarnath in between. The trek offers panoramic views of the lofty hills and gushing Mandakini. Under normal weather conditions, one can trek on the Kalindikhal trek, which is a rare experience.
Add-on Facilities
A person only needs to carry a backpack with basic minimum items that can be required during trekking.
White Water Rafting
White Water Rafting in Uttarakhand is one of the most popular adventure sports which is enjoyed by tourists who want to experience the adventure and thrill of the rapidly gushing water. It can be carried out in the rapids of Uttarakhand as the topography of the place stands out to be an excellent location to carry out this type of activity.
Summary
The Ganges and its large number of tributaries that meander and bend and turn amidst exotic locales offer an excellent opportunity for White Water Rafting in Uttarakhand. It is usually practiced in the upper regions where the water is very turbulent and white as it forms foam and froth and hits against the rocks. White water rafting in Uttarakhand is considered a very difficult sport along with mountaineering and trekking.
Alakananda and Bhagirathi that meet at Devprayag are a favorite haunt in Uttarakhand of white water rafters. One should start off the journey of White Water Rafting in Uttarakhand from the Kaudilya Rafting Camp. It is located in Tehri Garhwal and offers to be a good place to start off providing a perfect opportunity to learn the sport.
The unpolluted and pristine waters of Kumaon are also a good option to practice white water rafting. Traveling all the way to Ramganga won't be a fruitless effort for those who are in love with the sport. The Ramganga originates from the Namik glacier and takes one through the villages giving one an insight into the lifestyle on the mountains.
Add-on Facilities
Equipment for river rafting is provided for the rafters at the different places when one goes for white water rafting in Uttarakhand. Accommodation is also available at some places that are the starting points of the white water rafting tours.