Welcome to the most informative web page on Char Dham Yatra! Here we have carefully collected and recorded for public information details of phone numbers of tourist information centers, helpline numbers to contact for emergencies, the location of nearest hospitals en route to Char Dham, altitudinal heights of the different locations, possible routes by air, road and rail as well as distance chart from Rishikesh. Uttarakhand Tourism Department and State Government are engaged in performing stupendous work in making the travel pilgrimage-friendly. One can avail assistance from various helpline numbers and tourist information centers while on the journey. The Chardham tourist information provided herein comes particularly handy as the pilgrimage season advances and the route witnesses a heavy rush of pilgrims. Please keep in mind that the State Government's Tourist Office functions from 8 am till 5 pm.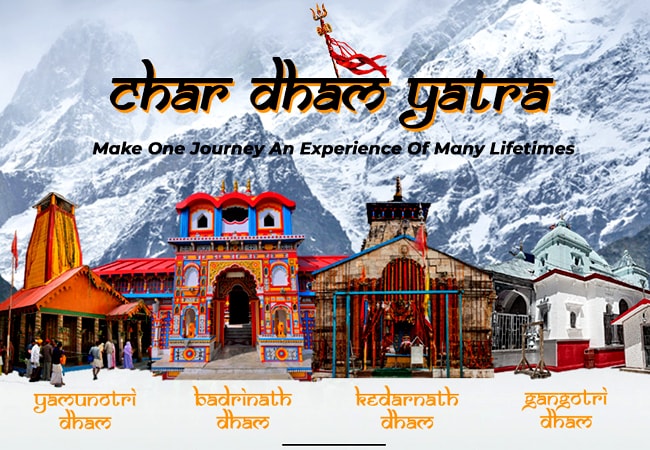 | | |
| --- | --- |
| Location | Phone Number of Tourist Information Centre |
| Haridwar | 0133-4227370 |
| Rishikesh | 91-135-2431793, 2431783, 2435174, 2430799 |
| Srinagar | 01346250065 |
| Rudraprayag | 01364-233995 |
| Kedarnath | 01364-263218 |
| Guptkashi | 01364-267221 |
| Joshimath | 01389-222226, 9568006667 |
| Badrinath | 01381-222212 |
| Uttarkashi | 01374222271 |
| Janki Chatti | 01375235639 |
| Barkot | 01375-224236 |
| Dehradun | 91-135-2559898, 2559987 |
Helpline Numbers (Gangotri and Yamunotri Region)
Service
Phone Number
Ambulance, Police, Fire
108
Commissioner (Garhwal Pauri)
01368-222300
DM (Uttarkashi)
01374222280/222102
SP (Uttarkashi)
01374-222116/222102
Tourist info. Center (Uttarkashi)
01374274761
GMOU (Rishikesh)
0135-2430074
Taxi stands (Rishikesh)
0135-2430413
DM Rudraprayag
01364-233300/233376
SP Rudraprayag
01364-233210/233388
Badri-Kedar Temple Committee
01389-222124
DM Chamoli
01372252102/252101
SP. Chamoli
01372252134/252133
Tourist Information Center Gopeshwar
01372253185
Travel Tips and Things to Carry for Char Dham
When in doubt, try contacting the services of the Government Tourist Information Center. If you pause to make inquiries to shopkeepers, try confirming the elicited answer with more than one person.
Travelers usually complain of a sore throat due to the cold weather. It is advisable to carry appropriate medication.
It is advisable to consume boiled or fried food. Indulging in cold or raw vegetables, rice or salads is not a good idea. Ensure that you carry a hand sanitizer with you always.
Some of the must-have medicines in your first aid toolkit are painkillers, medications for fever, cough-cold symptoms, antibiotics, antiseptic creams, etc.
There have been frequent complaints of power shortages leading to load shedding on the route. Carrying a torch or lighter would come in very handy in case lights go out.
Ensure that the handy cameras, digital cameras, and mobile phones you carry have additional batteries with them since one cannot be sure if a power connection would be available at every juncture.
One should not indulge in photography wheresoever it is prohibited. Take care to be respectful towards the sentiments of the local population.
Adequate wollen clothing must be with you at all times. The higher one ascends on the path, the colder it is bound to get.
Make sure you are physically and mentally fit enough to embark on a perilous journey like that of Char Dham Yatra. Since you will need to trek at heights of 14000 feet, it is advisable to carry a small oxygen cylinder to ease out any respiratory troubles that might arise.
Once you have made up your mind to go on Char Dham Yatra, make a daily routine to walk for at least 4-5 well before the actual journey begins. This will ensure your fitness levels are high while you embark on the journey.
Ensure that the poly, Palki, Dolly, or porter you hire is a registered one. Always walk along with them as they carry your luggage.
Keep stock of Dry fruits, biscuits, glucose, sugar, milk powder, candies, lemons, honey, etc. with you.
Always treat the environment you travel through with utmost reverence. Do not litter. Ensure you throw waste materials, polythene bags, etc. only in the dustbins.
One may not come across functional ATM services as often as one would like. So keep enough cash with you.
No vegetarian meals and alcohol are strictly prohibited.
Avoid resting near places where caution boards are placed. These may not prove safe.
Avoid carrying expensive Jewellery.
Washing oneself or one's clothes in the rivers is to be avoided unless a special Ghat for the same exists.
Ensure that the necessary permits and fitness levels of your vehicles are updated and can sustain the entire trail.
Travel Tips for Rainy Season
If you are traveling during the monsoons, keep a synthetic bag or a polythene bag to enable the carrying of wet clothes. Also, carry a waterproof bag with you.
Complaints of fungal infections are frequent during the rains. Try to keep one's legs as dry as possible.
Carry a raincoat or an umbrella always.
Distance Chart from Rishikesh
Yamunotri 221km
Gangotri 270km
Kedarnath 234km
Badrinath 298km
Joshimath 254km
Devprayag 71km
Rudraprayag 139km
Uttarkashi 170km
Haridwar 24km
Dehradun 42 km
How to Reach Chardham
Let us now list the various routes one may adopt to embark on Chardham Tirth Yatra.
By Air: Jolly Grant Airport, Dehradun is the nearest airport. Flights of Deccan and Jet Airways fly regularly from Delhi. One can avail of the Helicopter services to various sites of Char Dham from Dehradun.
By Rail: The nearest railway stations are Haridwar, Dehradun, and Rishikesh. Mail, express, and Superfast trains like Shatabdi connect these with the cities from the rest of the nation like Mumbai, Delhi, Agra, Howrah, Varanasi, Allahabad, Ahmadabad, Ujjain, Amritsar, Dehradun, Lucknow, etc. The rest of the journey can be traversed by road or by helicopter.
By Road: Pilgrims can hire cabs from Haridwar or Rishikesh. Buses operated by the state government and Private operators ply regularly during the pilgrim season. There are far too many private buses operated under TGMO and Uttarakhand Transport Department from Rishikesh.
Weather in Chardham
Yamunotri and Gangotri
Temperature
Summer
Temperature 15-22 C (Cool) During, Day, 5 to 10 5 C (Cold at Night)
Winter
Covered in Snow, Temperatures Drop Below Zero
Clothing
Summer
Light to Medium Woolen
Winter
Heavy Woolens
Rainy
The season is from June until August
Kedarnath
Climate
Summer
Temp 12 to 18 C on Day (Pleasurable), Temperature 0 to 5 C (Very Cold at Night)
Winter
Covered in Snow, Temperatures Drop Below Zero
Clothes
Light Woolen to Heavy Woolen
Rainy
June, July, and August
Badrinath
Climate
Summer
Temp 15 to 20 C in Day (Pleasurable), Temperature 5 to 10 C (Cold at Night)
Clothing
Light woolen to Medium Woolen
Rainy
Heavy rain in June, July, and August
Geography
The course of Char Dham intimates one with the diversities in Himalayan topography, flora, and fauna across the lower Shiwalik ranges to the mighty snow-clad mountains. Some of the exquisite species the Himalayas are known for include musk deer, Bhojpuri Tree, Brahma Kamal, etc. Long winding treks, fast-flowing rivers, and ecstasies of sky-high mountains are just a few of the many gifts Himalayan topography offers you.
| | |
| --- | --- |
| Location | Heights From Sea Level |
| Haridwar | 950 feet |
| Rishikesh | 1220 feet |
| Mussoorie | 6500 feet |
| Barkot | 4200 feet |
| Yamunotri | 10750 feet |
| Uttarkashi | 3700 feet |
| Gangotri | 10300 feet |
| Rudraprayag | 1800 feet |
| Guptkashi | 4350 feet |
| Gaurikund | 6500 feet |
| Kedarnath | 11750 feet |
| Pipalkoti | 4050 feet |
| Badrinath | 10500 feet |
| Devprayag | 1500 feet |
| Srinagar | 1400 feet |
Location of Hospitals
Yamunotri Route: Damta, Naugaon, Barkot Hospital, Brahmkhal Prathmik Swasth Kendra, Syanachatti, Janki Chatti, and Yamunotri.
Gangotri Route: Nagun, Chinyalisaur, Dunda, Uttarkashi, Maneri, Bhatwari, Harsil, and Gangotri.
Kedarnath Route: Ukhimath, Kalimath, Chopta, Guptkashi, Gaurikund, and Kedarnath.
Badrinath Route: Joshimath, Chamoli, Pipalkoti, Birahi, and Badrinath.