Auli has become a go-to ski town for adventure lovers from all over the world. If you are looking for a cost-effective way to beat the heat then make your way to the snowcapped hills of Auli. Besides offering relief from the scorching heat it has some of the best skiing and snowboarding locations in not just Uttarakhand but all over India. The tourist spot is covered with heavy snow in the winter season; hence the best time to visit this place is the summer season.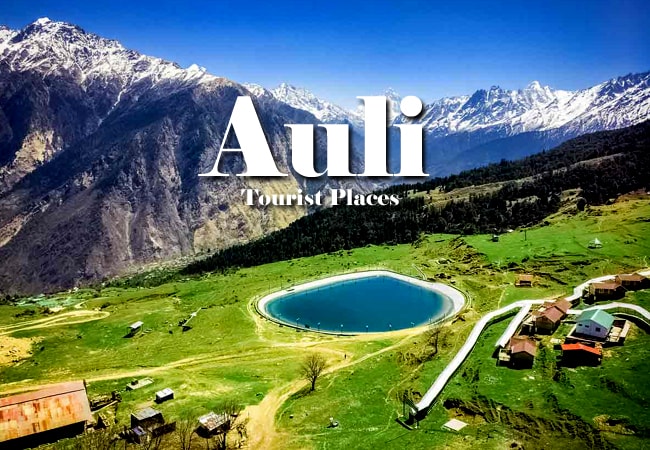 There are many winter sports festival organized at this place that attracts lots of tourists. Apart from all these things the location is very popular for ropeway ride that runs between Joshimath and Auli. The picturesque location is surrounded by rocky mountains and lush green landscapes that add another charm to this tourist spot. Now here we are going to mention the best places to visit in Auli that truly made your holiday vacation memorable. So check below mention tourist attractions and sightseeing in Auli with detailed information.
List of 6 Best Tourist Places to Visit in Auli
Joshimath
Chenab Lake
Rudraprayag
Trishul Peak
Gurso Bugyal
Auli Artificial Lake
1. Auli Artificial Lake
Located very close to Clifftop Club's private hotel, Auli Artificial Lake is one of the world's highest man-made lakes. It was created with the objective to produce synthetic snow for skiing activity during the time of less snowfall. Further, the water of this lake is used to feed the snow guns stationed along the ski slopes. The surrounding mountain peaks add another charm to this tourist spot. Moreover, if you are planning to visit Auli in the summer, then it is one of the best places to visit in Auli that should not be missed.
Things to Do at Auli Artificial Lake: Best for Skiing Activity and Explore Nearby Sightseeing.
2. Trishul Peak
Situated at an altitude of 23,490 m above sea level, Trishul Peak is an ideal destination for trekking in Auli. Located in the western Kumaon region, the tourist spot is very famous for skiing activities. Further, the location is enclosed with Nanda Devi National Park, which is one of the best places to visit in Auli.
The tourist spot can be best viewed from Kausani or Roopkund Trek. In 1970, it became the first peak which climbed by someone. From the top of the point, one can also take a panoramic view of the surrounding valley and mountain hills, hence it is an ideal destination for the photographer too. The place is very popular for hosting annual skiing events and competitions.
Things to Do at Trishul Peak: Trekking, Skiing Activity, and Photography.
3. Joshimath
Joshimath is another famous tourist destination of Auli and is very famous for mountaineering and trekking activities. Situated in Chamoli district, this place is well connected to Auli via ropeways. The picturesque city is surrounded by lush green mountain hills which offer many stunning views that you would want to capture. In addition, the region has many ancient temples making it an important pilgrimage for Hindus.
Joshimath is considered to be one of the four maths of Uttarakhand and was founded by Adi Guru Sri Shankaracharya in the 8th century. The place also provides a trekking route to reach the Valley of Flowers, which is another major tourist destination in Uttarakhand. For the adventure seeker, camping is another best thing to do in Auli.
Things to Do at Joshimath: Trekking, Mountain Climbing, Winter Sports, and Camping
4. Gurso Bugyal
Located at a distance of 3 km from Auli, Gurso Bugyal is a picturesque location which every tourist has to visit. Perched at an altitude of 3056 m above sea level, the location offers a prominent view of Nanda Devi, Trishul, and Dron mountain hills. Further, the tourist spot is surrounded by a dense forest of conifers and oak which adds another charm to this place.
There is a small trekking route also available for tourists from Gurso Bugyal to Chattarkund. The one km long trek passes through dense forest that offers many breathtaking views of surrounding nature. So being a famous tourist spot we placed it in the list of top places to visit in Auli.
Things to Do at Gurso Bugyal: Trekking, Nature Walk, and Visit nearby Sightseeing.
5. Chenab Lake
If you want to spend some quality time with your friends and loved ones, then Chenab Lake is one of the famous places to visit in Auli. The serene and peaceful atmosphere of this location gives you a unique vibe that can't be expected at any other sightseeing in Auli. Situated in Dang Village, the location can be only accessible from the walk as there is no track for motor vehicles or bikes. So if you want to get a unique experience from the Auli trip, then must visit this place at least once.
Things to Do at Chenab Lake: Trekking, Sightseeing, and Relaxing.
6. Rudraprayag
Rudraprayag is a sacred place to visit in Auli, which is located on the confluence of River Alaknanda and River Mandakini. The tourist spot has great religious significance as it is one of the Panch Prayag in Uttarakhand. The beautiful town offers many mesmerizing views, which gives you a spiritual vibe that calms your mind and soul.
Further, it is home to several ancient temples where devotees come all across the world to worship their deities. It is also considered the gateway to two major pilgrimages known as Kedarnath and Badrinath. The serenity and tranquility of this tourist place truly rejuvenate your mind and soul and give you a chance to meet inner peace.
Things to Do at Rudraprayag: Visit Temples and Explore Nearby Sightseeing.
So these are some major tourist attractions and places to visit in Auli that you have to explore during the holiday trip. It is an ideal destination for the summer vacation in Uttarakhand. Here we mention all the major sightseeing in Auli which are very popular among all tourists.